Ways to Spruce Up Your Used Car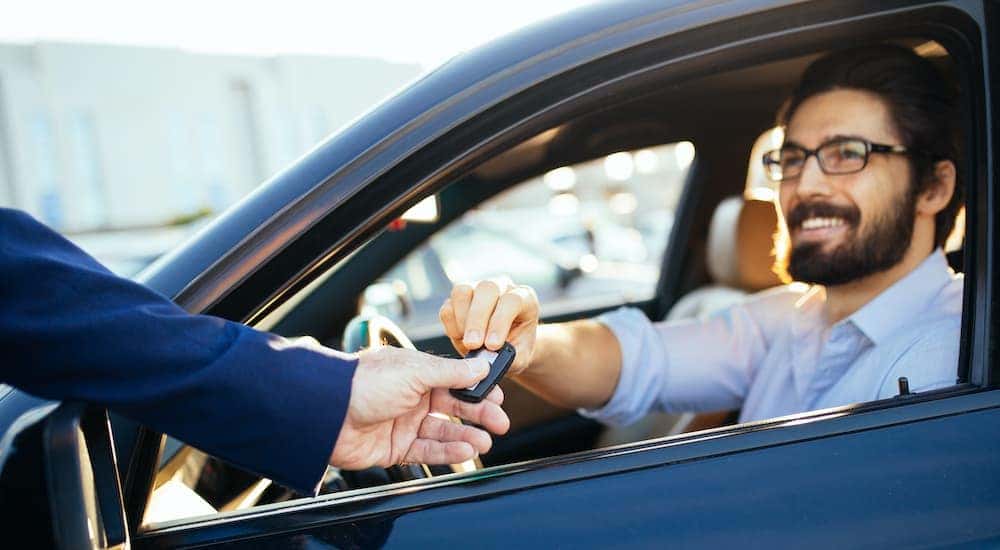 As a car owner, you spend a lot of time in your ride. Whether you are just driving to and from work on weekdays, taking the kids to piano lessons, or hitting the shops on the weekends, you spend a lot of time behind the wheel of your car. While you might not be the type who feels the need to outdo friends or neighbors when it comes to driving a nice car, you still take great pride in your car. You might have been tempted to invest in a brand new vehicle, but you couldn't ignore the great benefits of owning a used car. So you paid a visit to your Shelbyville used car dealership and wound up finding a great deal on the dream vehicle you have always desired. The only problem is that you would like to make it feel like new. Well, there are several ways in which you can spruce up your used car.
Get Organized
The first step is to get organized. Whether you are just getting accustomed to driving a new car, or you may have started letting things slide in a used car that you have owned for a while, there is no better or easier way to get your ride looking sharp than to clean it up.
Go through the cabin of your vehicle, take an inventory of what you have in your car, and then get started. First, take out everything you don't need. We all have some stuff hanging around in the back seat of our car, taking up space for no good reason. This is a perfect time to get rid of it. Cutting back on how much stuff you are carting around also frees up space in your car and will even give you a small boost in fuel economy.
Second, there is any number of gadgets that will help you keep your car better organized. You don't have to spend a lot of money to find one of those organizers that slips behind the driver's seat or slides between the driver's seat and center console. There are other options for your gadgets as well, including holders for your electronic devices and roll-up bags for your tools. Take the time to create a place for everything, and you will soon discover that once you get everything in your used car organized, it looks great, and it is easier to keep it looking good.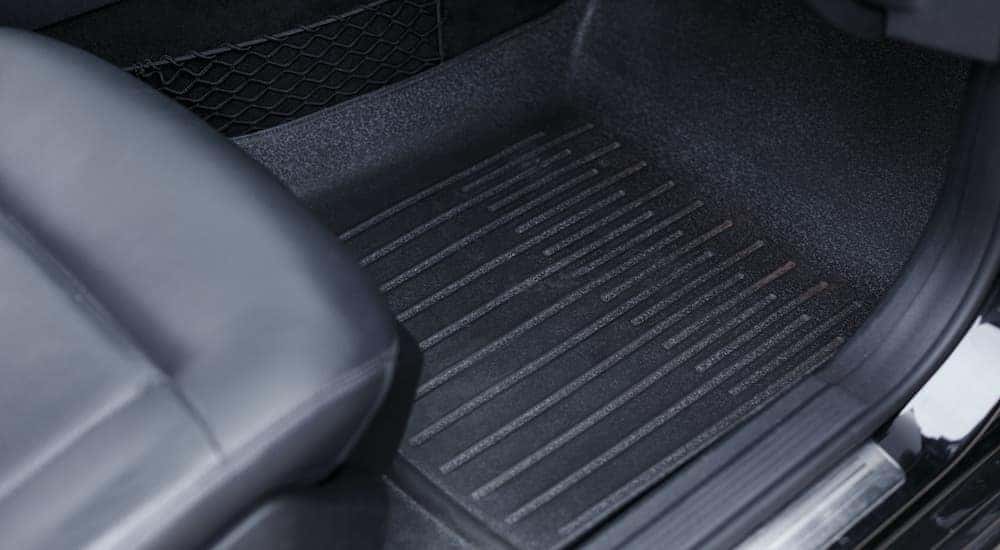 Mats and Covers
Let's not beat around the proverbial bush here; there are car components that aren't meant to last forever, yet many of us never change them out or otherwise deal with them. Take a good look at your floor mats, they might be clean, but they have suffered tremendously over the years. Even though they are seemingly out of sight, replacing them will give your interior a whole new look. You can go big and order custom-fitting mats, or you can go old school and pick some up at your auto parts store.
Seats are another auto component that takes a beating. No matter how careful you are, you wind up doing some sort of damage to your seats. Perhaps you punctured your seat because you failed to remember you had a pen in your back pocket; maybe you hooked a rivet from your jeans on the upholstery and tore it. Regardless of how it happened, your seats are looking less than fantastic. A quick, easy, and inexpensive solution is a set of seat covers. Not only will it give your ride a whole new look, but they also help protect your seats as well.
Get Some New Wheels
Most modern vehicles come standard with lightweight and sporty alloy wheels, which is a far cry from the ugly and heavy steel wheels found on vehicles from the past. But even though these factory alloy wheels are good-looking, they suffer a lot of abuse from the road and weather and start to look pretty bad after a few years. If you can't seem to get them very clean, it might be a good idea just to have them replaced.
We know what some of you are thinking, that this is an expensive fix just to make your car look better. The fact is that not all aftermarket wheels are costly; they just look that way. We can help you find a great set of wheels to change up the look of your ride. There is one thing to know before committing to getting new wheels; your ride will look amazing in them.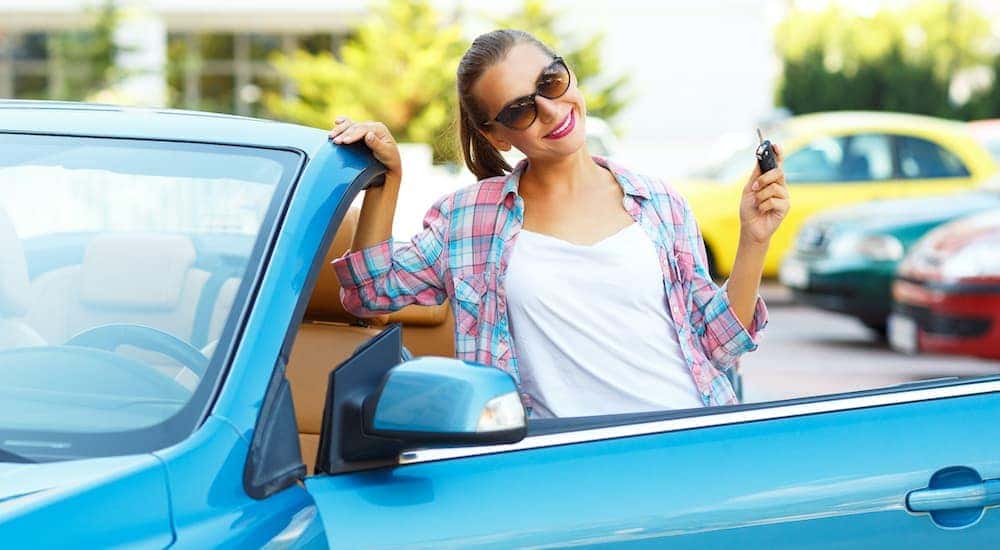 Grab Some Upgrades
There are literally hundreds of upgrades you can get for your used car. Some can be quite expensive, like a body kit, but they will totally change the look of your car. There are also many upgrades that won't break the bank and will add class and style to your used vehicle. For example, headlight covers are inexpensive and will give your ride a sharp look, and it's a modification you can do on your own.
It might not seem like much, but a brand new vanity plate will add something extra to your used car. A personalized plate will give your car character, and it will get noticed. Fog lights are also an easy upgrade for your car that won't lighten your wallet too much, and they will make a difference in the look. The nice thing about fog lights is that they also serve a useful purpose and could come in very handy.
Interior light kits are also a way to spruce up the interior of your used car. The fact that many new cars have ambient lighting options tells you that this is a popular way to give your interior a great new look. Windshield wipers are necessary, but the ones on your used car are old and don't look all that great. If this is the case, swap out those tired old wipers for a sweet set of wipers in your favorite color to add a little style.
If you have a manual transmission, the shift knob on your car is probably a stock feature and doesn't express your personality. Take a few minutes to scroll through Amazon or a car accessory website, and without a doubt, you will see hundreds of shift knobs in a variety of materials and styles. This is yet another easy and inexpensive way to spruce up your used car.
Lastly, hang a set of fuzzy dice on your rearview mirror. Sure, it's a silly thing that kids tend to do, but it will accomplish two things; it will give your interior a fresh look, and it will make you feel like a teen with your first car again. That is a feeling that will make your day every time you slip behind the wheel of your new, used car.
Where to Find Your Used Car
At Newton Chevrolet Buick GMC, we are confident that you will find the perfect vehicle for your needs at a price you can afford, whether it is a new or used model. We offer a full line of all of the available models from the top manufacturers as well as a wonderful selection of used vehicles. We are sure that you will find the right fit.
We also know that you lead a busy life, and you might need some help finding a suitable new or used model; that's why we are here to help. We aren't here to pressure you into buying something you don't need; we are here to answer any questions that you might have and guide you through the car-buying process. While we can't promise that you will have the time of your life, we can guarantee that the experience will be hassle-free, seamless, and very pleasant. So stop by Newton Chevrolet Buick GMC today and let us help you get behind the wheel of your dream vehicle.