Buick Legacy
Buick got its start back in 1903, making it the oldest American car company still in business. The first popular Buick was the Model B Touring Car. This baby could go up to 21 MPH and was definitely a beauty. In fact, by 1908, Buick had surpassed both Ford and Cadillac, selling the highest number of vehicles for the day. Now that's an amazing feat.
Buick produced its one-millionth vehicle just before it reached its 20th anniversary in 1923. While Buick continued to produce many successful car models over the years, by 1942, it joined the country in the struggle to win World War II and produced more than 2500 Hellcat tank destroyers. After the war, it returned to building luxurious cars for the civilian market. If you're a classic car enthusiast, you might be familiar with the Buick Roadmaster Skylark Convertible, which was produced as Buick's 50th-anniversary vehicle in 1953.
In 1959, the first modern performance Buick entered the market, the Buick Invicta. And in 1976, the pace car for the Indy 500 was actually a Buick. While Buick successfully put out plenty of sedans of all shapes and sizes in its early years, by the beginning of the 21st century, Buick had solidified its place in the SUV market. Nowadays, that's what Buick really specializes in.
The Buick Rainier, made in 2004, was Buick's first SUV. It introduced a whole new era of Buicks that today we can hardly picture ourselves without. Buick has certainly come a long way since its early 1900 era. But no matter which specific Buick you end up with, you can bet you're going to have a luxurious and reliable vehicle for many years to come.

Buick Models
While Buick has been around for many, many years, and there are several models that have come and gone, there are a few Buick gems that have just been too good to discontinue. These Buick models are all available today at your local Buick dealership. Each of these models comes with all the safety features and technological advancements that make the modern cars of today the very best, and they also all come with the traditional Buick luxury.
Buick's smallest SUVs are the Buick Encore and the Buick Encore GX. These are considered luxury crossover vehicles, and if you want compact and comfort all rolled into one affordable package, they are the vehicle for you. The Buick Envision is Buick's luxury compact SUV. It is just a little bit bigger than the Encore, so if cargo space is important to you, but you still want the ease of parking that comes with a compact SUV, then take a look at this year's Encore models.
Moving up, we have the Buick Enclave, which is Buick's luxury midsize SUV. This beautiful SUV can comfortably seat up to seven people, so if you have a larger family or you frequently drive around friends or colleagues, the Enclave is going to be your best option. But no matter which Buick you choose, you're going to be in for one of the most luxurious SUV rides around.
If you prefer an older used Buick, ask your local Buick dealer about some of these older Buick models. The Buick LaCrosse was one of Buick's last sedans, and this luxury midsize model was produced up until 2019. The Buick Regal is another older Buick that you still might find on used car lots. When you've been around as long as Buick, you're sure to have a few classic used models, and you can't go wrong with most of these options.
2022 Buick Encore
If you are looking for a small crossover SUV, something that can easily fit into even the most modest lifestyle, then the 2022 Encore is a fantastic choice. This is the smallest model in Buick's lineup, and it still delivers impressive performance, luxury, and style despite its diminutive proportions. The Buick Encore measures about 168 inches in overall length and 70 inches in width while still giving you more than 6 inches of ground clearance, so it is perfect for city driving as well as long road trips.
It is a two-row crossover with seating for up to five people, which makes sense given its small size, but you still get plenty of room inside to take advantage of. Your passengers will enjoy nearly 93 cubic feet of total space inside to stretch out, including more than 40 inches of front-seat legroom and more than 35 inches of rear legroom to enjoy. In terms of space to load up with shopping bags, luggage, or anything else you need to take with you, the Buick Encore has nearly 19 cubic feet of rear cargo space and more than 48 cubic feet of total cargo volume behind the front row.
Despite its small size, the Encore is a lot of fun to drive thanks to a 1.4L Turbo engine that delivers 155 hp and 177 lb-ft of torque, which comes paired with a 6-speed automatic transmission. Inside the Buick Encore, you get a 7-inch infotainment display with compatibility with Apple CarPlay and Android Auto, along with active noise cancellation and cloth seating with leatherette trim, all standard. A 4.2-inch Driver Information Center is also standard on every model, along with keyless open and remote start functionality, while available safety features include Front and Rear Park Assist and a Forward Collision Alert.

2022 Buick Encore GX
Despite its similarity in name, the Encore GX is not simply a trim or special edition of the Buick Encore; it is its own model and is built upon a completely different platform. It is easy to get the two mixed up, of course, especially since they are very similar in size and the Encore GX is a fantastic choice if you are looking for a small crossover SUV. While the Encore has a single trim offered, you get more options to choose from with the Encore GX, so keep that in mind while considering which model might be right for you.
Although very similar in size to the Encore, the Buick Encore GX is slightly larger and measures just over 171 inches in total length and more than 71 inches in width. It has about 7.5 inches of ground clearance, which is perfect for dealing with rough weather or if you tend to go on a lot of dirt or gravel roads. This is a two-row model with seating for five people, though your rear-seat passengers have up to 36 inches of legroom – slightly more than the Encore. You get more than 23 cubic feet of cargo volume in the rear of the Encore GX, which is substantially more than the Encore, along with 50 cubic feet of total cargo space behind the front seats.
There are two engines available for the Encore GX: a standard 1.2L Turbo and an available 1.3L Turbo that delivers 155 hp and 174 lb-ft of torque, both of which come paired with a Continuous Variable Transmission. The standard Preferred trim features an 8-inch infotainment display, Wireless support for Apple CarPlay and Android Auto, and great safety features like Lane Keep Assist with Lane Departure Warning, all standard. With the Essence trim, you get leather-appointed seating, a heated and leather-wrapped steering wheel, and heated front seats.
2022 Buick Envision
If you are looking for something a bit larger than the Encore and Encore GX without going overboard, then the Buick Envision is a terrific choice. This is a compact crossover SUV, so it is still quite small compared to a lot of SUVs on the market while giving you great options and plenty of room inside to take advantage of. The Envision is quite a bit larger than the two Encore models: it measures more than 182 inches in length and more than 74 inches in width – that is more than a full foot longer than the Encore.
This extra size is well utilized to give you plenty of room inside, though this is still a two-row, five-passenger model that is great for city driving and long road trips. You get more than 100 cubic feet of total passenger volume inside the Envision, with more than 40 inches of front legroom and nearly 40 inches of legroom for your rear-seat passengers. When you need to load up with bags or gear for a weekend road trip, then the Envision gives you 25 cubic feet of cargo space in the rear and nearly 53 cubic feet of total cargo volume behind the front row.
We love driving the Buick Envision as it features a 2.0L Turbo engine that delivers 228 hp and 258 lb-ft of torque, which is paired with a 9-speed automatic transmission. Although three trims are available, the legendary Avenir trim is truly something special. It features a 10.2-inch infotainment display, heated front and rear seats, and a Bose 9-speaker premium sound system, all standard. You also get fantastic safety features in the Envision Avenir, including Automatic Emergency Braking, Front Park Assist, and an HD Surround Vision system that provides you with a digital overhead image to see the area around your vehicle.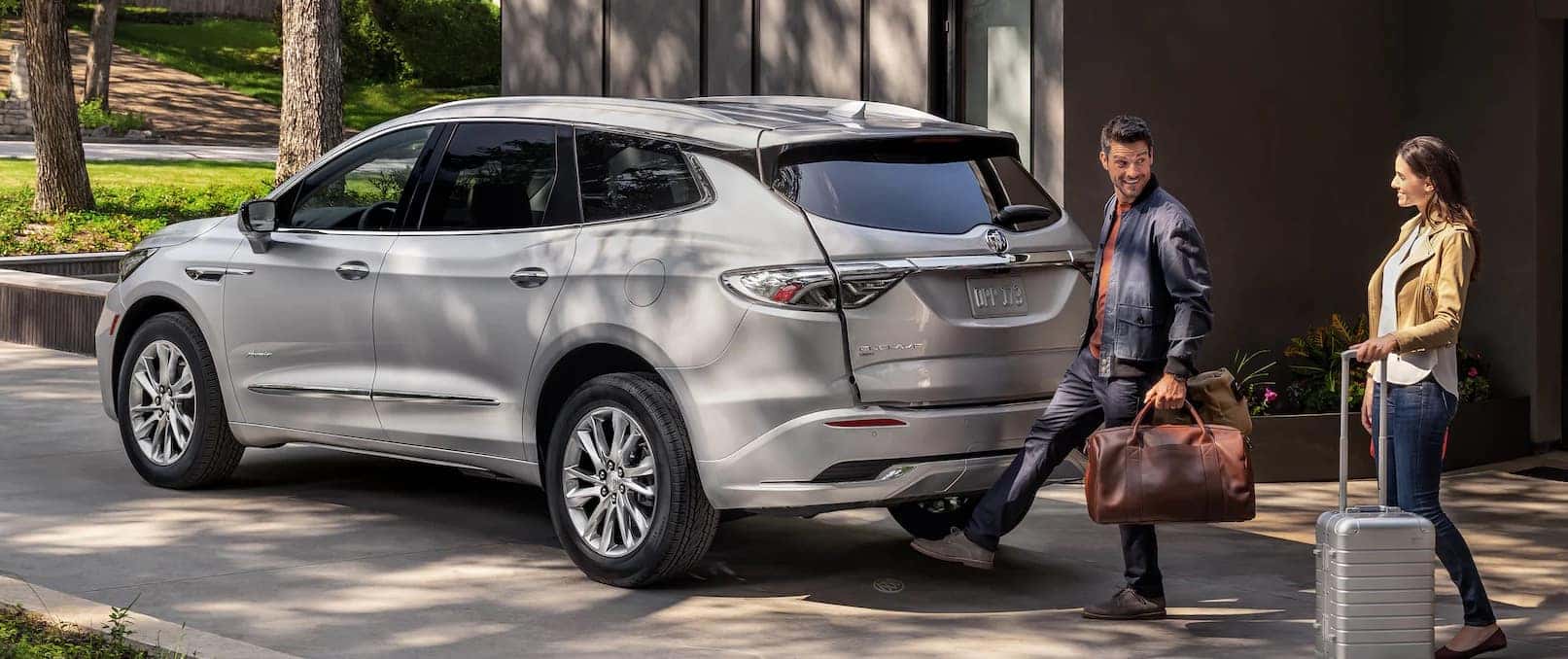 2022 Buick Enclave
Finally, there is the Enclave, a midsize option that is the largest SUV in Buick's lineup and a fantastic choice for many drivers. If you want something bigger than Buick's other options – particularly if you need seating for more passengers, then the Enclave is the way to go. Despite its impressive size, however, this is still a highly stylish and luxurious option with the incredible Avenir trim available. The Enclave is substantially larger than other Buick models: it measures more than 204 inches in length and nearly 79 inches in width, making it about two feet longer than the Envision.
This larger size translates directly to more space inside for you and your passengers to enjoy and really take advantage of. The Enclave is a three-row midsize SUV with seating for up to seven people – you get more than 157 cubic feet of total passenger volume within this beauty. Up in the front, you will enjoy more than 41 inches of legroom, while your second-row passengers have more than 38 inches of legroom, and those in the third row still enjoy more than 33 inches of space for their legs. You also get a lot of room for other things: more than 23 cubic feet of cargo volume in the rear, with nearly 58 cubic feet of cargo space behind the second row, and more than 97 cubic feet of total cargo volume.
Every Enclave model is powered by a 3.6L V6 engine that delivers an impressive 310 hp and 266 lb-ft of torque, which comes with a 9-speed automatic. You have three trims to choose from, including the exquisite Avenir that features an 8-inch infotainment display with support for Wireless Apple CarPlay and Android Auto. The Avenir also includes a 10-speaker Bose performance-enhanced premium sound system, perforated leather-appointed seating, an 8-inch Driver Information Center, and a head-up display projected onto the windshield. You also get Enhanced Automatic Emergency Braking, a Safety Alert Seat that uses vibrations to warn you of potential crashes, and the HD Surround Vision system on the Enclave Avenir.
Why Choose Our Dealership for New and Used Buicks?
If you're in the market for a new or used Buick, there's no better place than Newton Chevy Buick GMC. We always give you the highest value on your trade-in, so you'll always have the biggest amount available to put down on your newest purchase. We even have a handy online tool that lets you get an idea of what your trade-in is worth, which our customers find extremely convenient.
Speaking of cash, what if you could negotiate with a dealership finance department to get a vehicle price you actually want to pay? At Newton Chevy Buick GMC, we work with you to find you the best financing options available. And just like with our trade-in value tool, you can apply for financing online from the comfort of your own home as well. Do whatever works best for you.
When you come in, be sure to ask about our current specials. We always try to keep prices as low as possible, and we often have unique specials on new or used vehicles going on. You can view these specials online as well, but it's more fun to have our team members give you the VIP tour, as well as the inside scoop.

Directions to Us From Murfreesboro
If you're coming to us from Murfreesboro, you're going to want to hop onto Highway 231 and head south to Shelbyville. Follow that road for about 20 miles. When you see the Shelbyville welcome sign, you're almost there. Just a little bit further, and you'll see us there on your left-hand side. If you pass the Walmart, you've gone too far.